At ResellerClub we offer a variety of options to power your hosting business. We recently launched the ResellerClub WHMCS Module, allows you to integrate our entire product portfolio with WHMCS. You can also make use of our ready-to-use storefront, SuperSite, which recently got a major upgrade and emerged as SuperSite 2.
SuperSite 2 is a faster and more secure interface and gives your Customers a seamless checkout experience. The new design of SuperSite 2 is keyword-rich and will also help your brand's SEO rankings. We recommend that you upgrade to SuperSite 2 so that you can access to all our upcoming features and products. Our latest product Enterprise Email is available only on SuperSite 2. Find more information on Enterprise Email HERE.
As part of our continued efforts to improve the storefront experience, all our upcoming products will be rolled out exclusively on SuperSite 2 and through the API.
What's New In SuperSite 2
The new SuperSite sports an all new design, great new content and remarkable features that will help you increase conversions dramatically.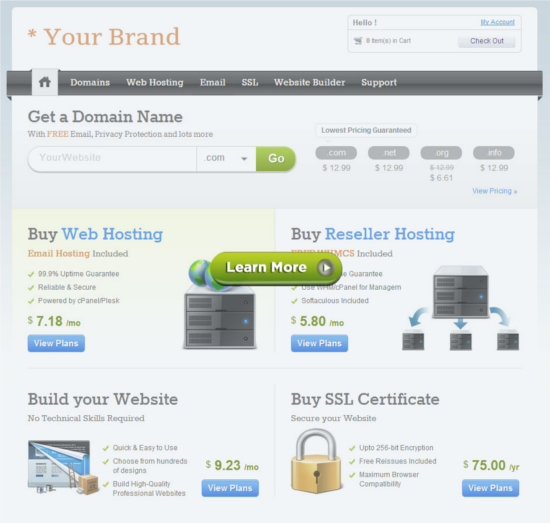 Your SuperSite 2's Features
After careful consideration of your feedback, the changing design trends and changing SEO practices we have added a bunch of useful features to the SuperSite 2. These features will also help you to attract more customers and boost your sales.
Completely Redesigned
Absolutely new look and feel with a minimalistic & sophisticated Design.
Increase Sales
3-Step purchase process that makes it easier for your Customers to buy.
Incredibly Fast!
Remarkably fast load times with quick check Availability & search functions.
Intelligent Upselling Module
Built-In module to prompt your Customers to buy your Hosting packages.
SEO Friendly
Revamped URLs, fat footer and keyword-rich content make SuperSite 2 more SEO friendly.
Secure Control Panel Login
Revamped SuperSite Login Area that ensures all Customer data is encrypted.
Easier Customer Signup
Improved Customer Sign-Up process with fewer fields and instant validation.
SuperSite 2 is available in 5 New Languages
Chinese, Spanish, Turkish, Russian and Portuguese. You can also translate and add your own languages.
Lightning Fast Domain Check Availability
Domain Check Availability tool that allows Registrations across several TLDs with a single click.
Multiple Layouts
Multiple layouts to suit every Business Model
Access SuperSite 2 from your Control Panel
You can access superSite 2 from your Control Panel via the following path:
Login >> Settings >> Branding Settings >> SuperSite & PartnerSite >> SuperSite 2
Please Note:
Do keep in mind that when creating the A record to point your Primary Domain (used as your current SuperSite URL) to SuperSite 2, you will have to account for DNS propogation.
We suggest you make customizations to SuperSite 2 on the partially branded URL. Only once your customizations are done, point your Primary Domain to SuperSite 2.
All new Products & Features will only be added to SuperSite 2. We are planning on deprecating the old SuperSite in 6 months so we recommend that you move over to SuperSite 2 as soon as possible.
All new Resellers will now only receive SuperSite 2 as a selling option.
If you have not yet moved from the old SuperSite to SuperSite 2, we highly recommend that you move today.
You can check out its features and learn HOW TO GET STARTED, HERE.
You can also leave your comments, queries and thoughts on SuperSite 2 in the comments below! If you require any assistance in exploring or using your new SuperSite, your Account Manager is always available to help.
We hope you love the all new SuperSite 2 and I'm looking forward to receiving your feedback and suggestions!
There is no ads to display, Please add some