Last week, we rolled out the new SuperSite to all our Resellers on the Global, Indian and UK programs. The response so far has been phenomenal, with a majority of our Resellers expressing interest in using SuperSite 2 as their primary storefront!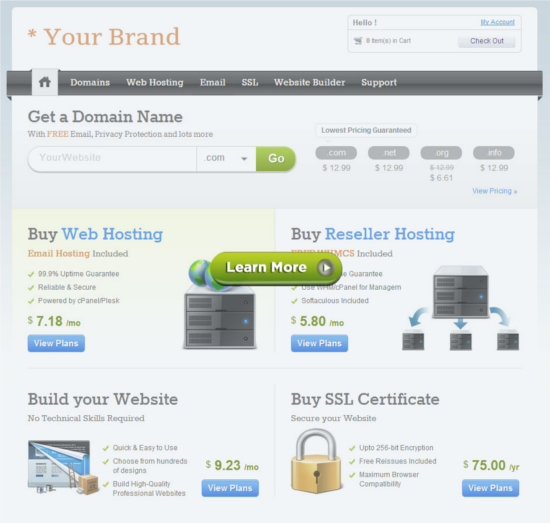 If you've been following the conversation on our Uservoice channel (which you can access from your Control Panel) or Facebook and Twitter, you would probably know that we've been working on the new SuperSite for some time now. It's taken us a while but I can safely say that you're going to love it.
SuperSite 2 improves upon the old supersite in many ways. Take a look at why it's a whole lot better:
Completely Redesigned:
The new SuperSite has been completely redesigned and is a lot more minimalistic and refined. We've also improved upon the User Experience with this version, as you'll probably notice during the Domain Check availability and purchase process.

A whole lot faster:
A lot of our efforts also went into making sure that SuperSite 2 is a lot faster.  Currently the new SuperSite is incredibly fast with an average load time of 3 seconds.

More SEO friendly:
There are also more SEO benefits with SuperSite 2. You'll notice relevant URL's, a fat footer and a lot of keyword rich content.

Includes an easier Purchase Process:
One of the main features that will help you increase conversions is the easier and more streamlined purchase process. Your Customers can now purchase a product in just 3 steps.The Purchase process also comes with an intelligent upselling module that upsells Hosting packages to customers when they register a Domain Name.

All new Product Pages:
We've worked particularly hard on reworking the Product Pages. You'll observe a great new Plans blurb which gives you the ability to highlight your best-selling plan. We've also included brand new content with complete feature lists and detailed FAQs for all products.
That's not all!
We're also very close to launching a few more features for SuperSite 2. Take a look at what's in store:
Coupon Engine:
Integrating a coupon engine has been a very popular feature request and we've looked at all the feedback we received while developing this feature. You'll soon see a powerful coupon engine integrated with SuperSite 2, with an intuitive system to create and manage coupons.

Lightning-Fast Domain Check Availability!
We've even been working on an AJAX based Domain Check Availability that will make Domain Registrations incredibly fast!

Language Packs
5 new language packs are also coming up very soon. We'll be releasing Turkish, Spanish, Portuguese, Chinese and Russian versions of SuperSite 2.

Multiple Layouts:
Multiple layouts too are on the cards to cater to different business models. For example, if you resell only Domain Names, you will be able to use a layout that only showcases your Domain Name offering.
To keep yourself updated about future developments on SuperSite 2, you can stay tuned to the blog or follow the conversation on our Social Media channels.
A big thanks to our Beta Testers!
We had close to 1000 Resellers testing SuperSite 2 before we launched, and I'd like to thank all of them for helping us eliminate bugs and release a fantastic storefront!
Tell us what you think!
We're always looking for feedback and suggestions to improve our products. So if there is anything you like (or don't like) about SuperSite 2, we'd like to know. You can leave a comment below,  mail us on supersite2@resellerclub.com or show your love by tweeting about SuperSite 2!