After taking stock of your valuable feedback about price-setting, we're delighted to introduce our Profit% – Based Price Calculator.
You can now set and update your selling Prices in less than 30 seconds using this simple, yet extremely comprehensive pricing engine.
You will now be able to set your domain prices in 3 simple steps:
    Select the TLDs you want to set prices for
    Specify a profit margin for each action viz. Register, Renew and Transfer
    Round off to set vanity prices
Our system will add your specified Profit margin to your Cost Price, and set your Selling Prices automatically.
Moreover, you don't need to navigate through every pricing page to double-check your prices anymore. You will now be able to see your calculated Selling Price, Cost Price and Profit margin against each TLD, at one glance on Domains Pricing Overview page.
Sample Screenshot: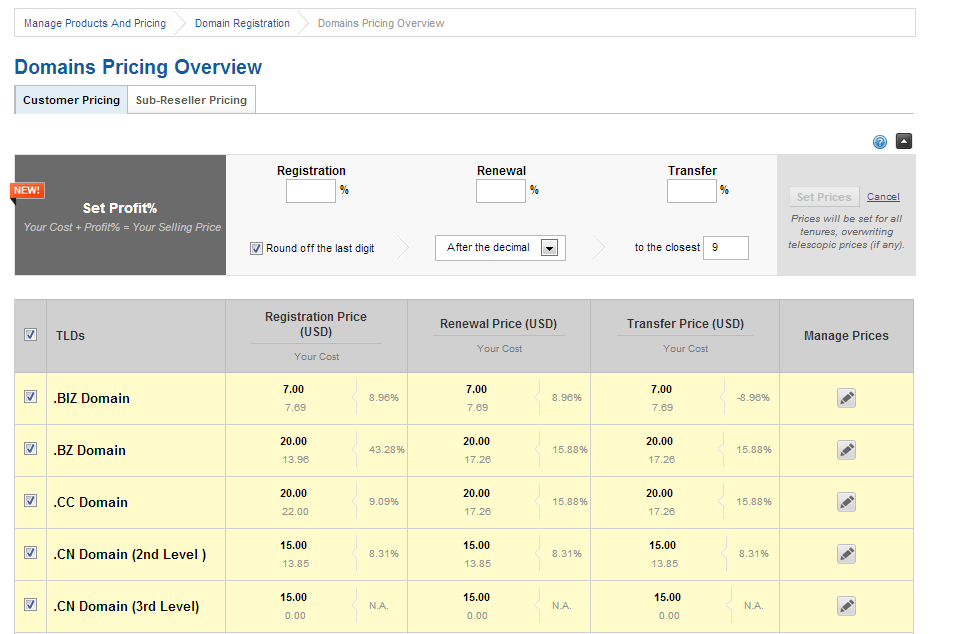 Please note:
 For a selected set of TLDs, prices will be set for ALL years. Hence, if you have set telescopic prices, they will be overwritten
 In the event of a change in your cost price, you will have manually update your selling prices
 Your final profit margin might differ slightly, due to rounding off
 This functionality is now live on your control panel
With these improvements, we're sure that setting domain prices will now be a breeze. Based on your feedback, we will take this up for other products as well.
So please go ahead and enjoy this enhancement, and feel free to post your comments below.