Choosing a billing system tailored to your needs is an important decision you need to make to seamlessly manage your hosting business and customers. Through this blog, I hope to equip you with the all the information you need to choose the best billing system to accommodate all your hosting business needs. Read on to know more!
Billing platforms today go beyond receiving payments and providing technical support services, they also meet specific needs of the hosting industry. This gives you enough time to spend on your core competencies like marketing, staffing, and new product offerings.
WHMCS (Web Host Manager Complete Solution) is a comprehensive client management and billing tool for web presence businesses. It is the world leader in automated billing, support, and software that bridges the gap between your customers and your hosting infrastructure.
It enables handling the entire process from signing up to termination, with automated billing, provisioning, and management. What's more? All licenses come with a 30-day money-back guarantee.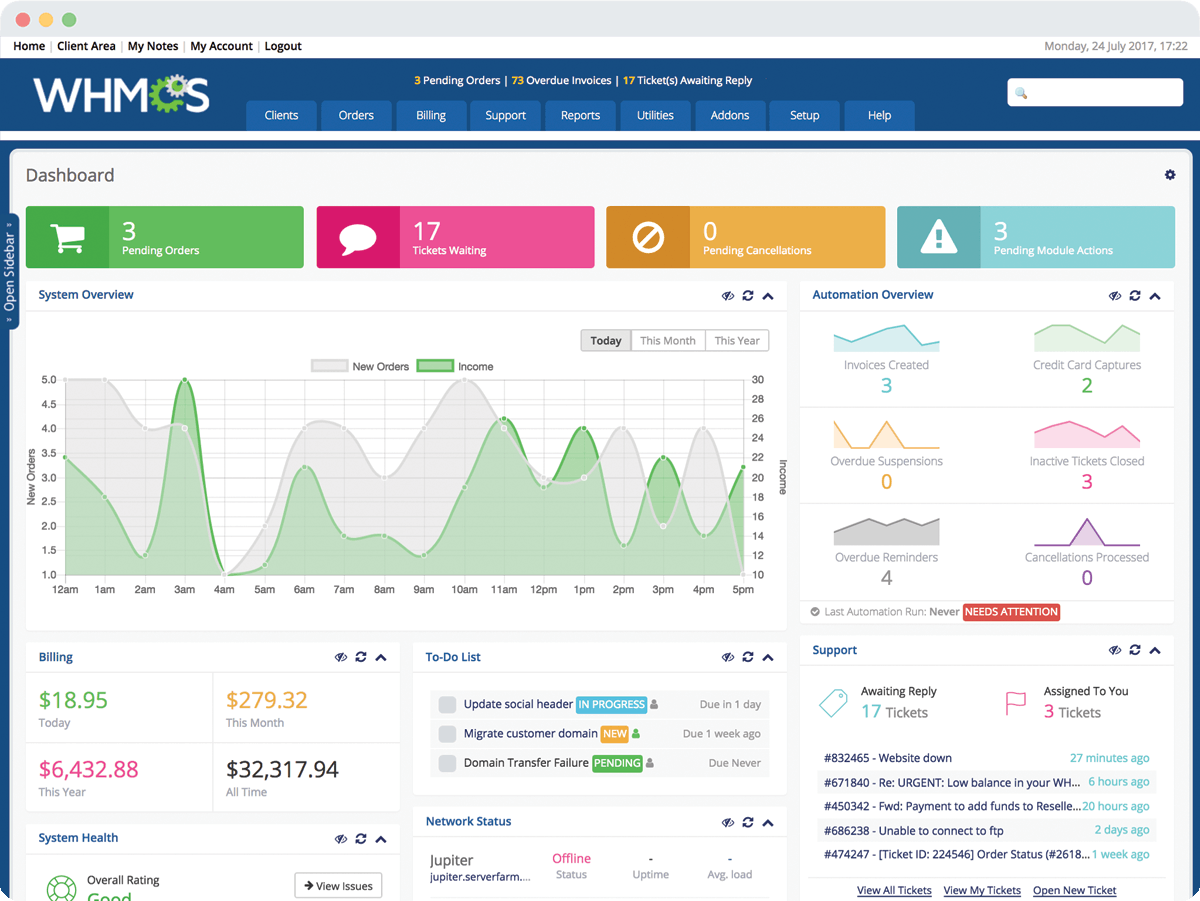 WHMCS helps you sell more than just domains! You can use ResellerClub Mods, that include a bunch of provisioning modules for managing and integrating your ResellerClub products with WHMCS. Mods help propel your business by offering a complete system with store front and backend, fully packaged with everything you need to sell and manage the most complete product portfolio in the domains and hosting market.
Here are some provisioning modules you can use to sell the following products :
All in all, it makes for a very powerful business automation tool to start or manage your web hosting business. Listed here are some non-negotiables WHMCS offers, that you must factor into your decision:
Automated Billing – Sending invoices, collecting payments, taxes, reminders and are a thing of the past! We know you want that added flexibility in terms of settling your dues/billing. Also make sure all the different kinds of billing you need (quarterly, in arrears, prepaid schemes) are supported for usage-based billing and/or fixed billing, including the ability to do specialized forms of billing like bandwidth billing and cloud billing.
Global Capabilities – Be sure the system you choose can make room for multiple currencies & languages, multi-locational infrastructure monitoring, and tracking, and other similar requirements as you grow your hosting business and penetrate various markets globally.
Security and Support – These are bare basics when it comes to any billing system – given how critical securing customer information is in any industry. Don't forget to factor in standard security features like 2-factor authentication and PCI (Payment Card Industry) Compliance. You also need to make sure that your team is up to speed at all times, for this, you need to make provisions for quality and responsive support services(& no that just doesn't include 24*7 Support). These services include:
– Pre-sales
– Implementation
– After sales and tech support
– Consulting
– Videos
– Tutorials
– Documentation
Adding on to these, integrated support tools give you a client portal with a knowledge base, ticketing and more. Your team will need all the support it requires at different phases during your hosting business life cycle & having an awesome support team at your disposal is a great asset!
Scalability – Can this system manage high volumes of traffic, usage, and monitoring to help you grow your hosting company over time. Though migrating platforms is a solution, it costs you time & money. Being able to stay on one platform maintains your business' hard-earned reliability and stability.
Simplicity – How intuitive and usable this system? It's not only going to be accessed by business managers & finance executives but also for sysadmins, sales representatives, network engineers, support & operation teams, and various potential stakeholders. The simpler the hosting management system, the better its adoption cross-functionally & higher productivity because of it.
Flexibility & openness – Be sure to test-run a system's customisable features, API, and any other extensive functionality available. Study their documentation, and ensure the system will flex to accommodate unpredictable needs going forward as you grow in or beyond hosting.
Thanks for reading and I hope this post will help you choose the perfect billing system for all your needs. If you have any questions please feel free to write to us or post your comments in the section below. What do you look for when evaluating a billing management solution?
There is no ads to display, Please add some